Tattoos wiki is a community site dedicated to the art and culture of tattooing. Our goal is not only to be a welcoming place where artists can introduce themselves and display their work - but also to provide a resource for users seeking general information about tattoos, and design ideas for their own self-expression.
---
If you are an artist, please feel free to CREATE YOUR OWN page, and display as much of your work as you wish.
---
We are currently housing 99 articles and 774 files. All are welcome to add useful and constructive articles, or add quality information to articles which already exist.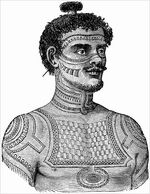 History of Tattoos–
Tattooing has been practiced for centuries worldwide. The Ainu, the indigenous people of Japan, traditionally wore facial tattoos. Today one can find Berbers of Tamazgha (North Africa), Māori of New Zealand, Arabic people in East-Turkey and Atayal of Taiwan with facial tattoos. Tattooing was widespread among Polynesian peoples and among certain tribal groups in the Taiwan, Philippines, Borneo, Mentawai Islands, Africa, North America, South America, Mesoamerica, Europe, Japan, Cambodia, New Zealand and Micronesia. Despite some taboos surrounding tattooing, the art continues to be popular in many parts of the world.

Read more...





Refresh
·
Read more...

My name is Marios Sotiriou and I am the owner of Station Tattoo piercing located in Nicosia Cyprus. I have been working as a professional piercer and tattoo artist for about 12 years now. Amongst these years I have participated in lectures and semin…
See more >

YOU can help us expand and improve this wiki!
---
---
If you're new to wikia, please use the above links to get started.
If you already have editing experience, and you have an article relating to Tattoos to contribute, use the box below to create it:
<createbox>width=30</createbox>

If you have an image of tattoo artwork, or of an artist, CLICK HERE to upload it.
Thank you!
Community content is available under
CC-BY-SA
unless otherwise noted.